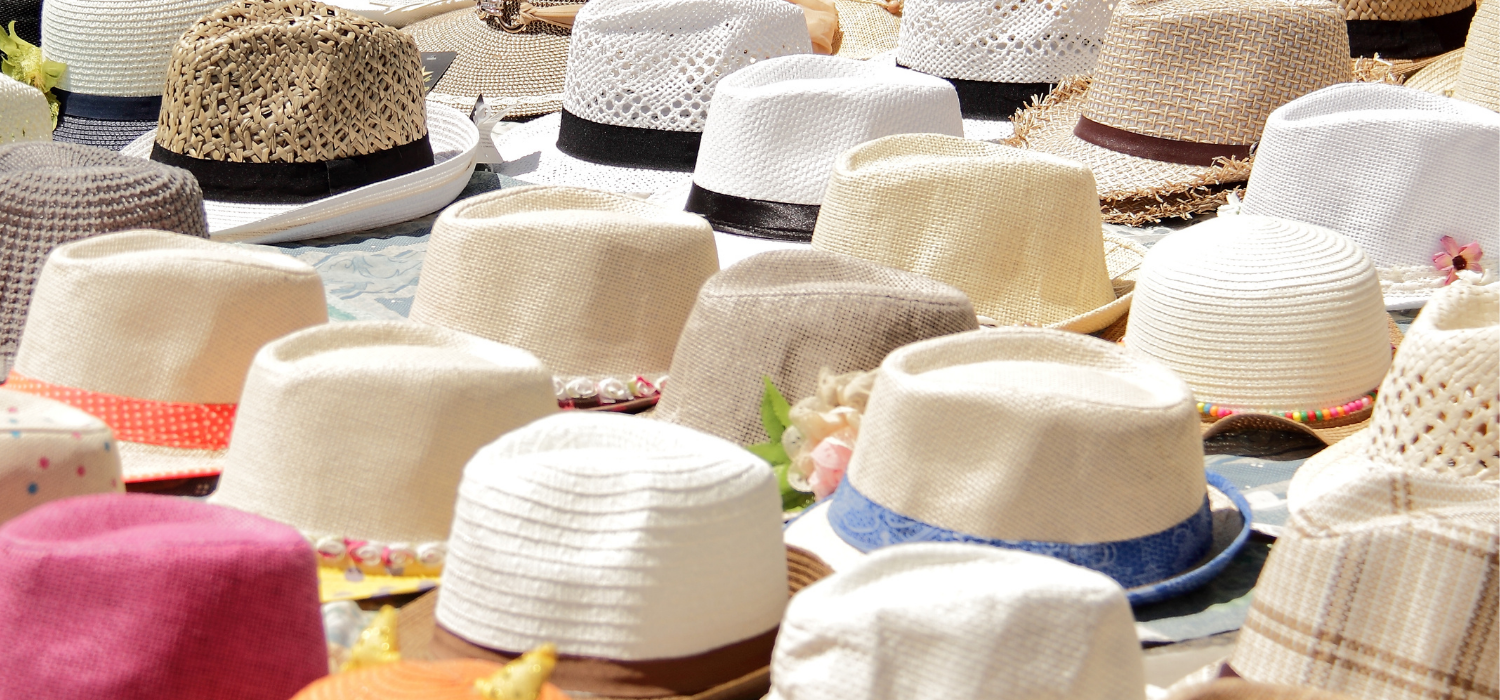 Your LinkedIn Profile (When You Wear 2 Different Hats)
They say when you "try attracting everyone, you end up attracting no one."  There is truth in this quote, and great value can be found when you narrow down your niche, and become very targeted in your marketing.  
When you have one ideal client to serve, your marketing messages are clear and concise, meant to serve that one and only audience member.  Your LinkedIn profile creation is easy and focused, you know EXACTLY who you serve, and they are top-of-mind as you create your LinkedIn profile.  But what if you wear two different hats and speak to two different audiences?  Can you still address both audiences through your LinkedIn profile effectively?
The answer is "YES", if you are serving two different audiences, or wear two different hats in your career and professional presence, you can still capture your roles clearly through your LinkedIn profile.  In doing so, you can still speak to your audiences and let them know they are in the right place when they land on your profile.
Before we dive into how we tailor our LinkedIn profile when you wear 2 different hats, what are some examples from hospitality in which we find ourselves serving two different audiences?

Here are some examples from hospitality where you may be wearing two different hats:
Serving two (or more) different markets – your role as a sales professional or meeting planner may have you speaking to two different markets, made up of two very different buyer personas.  From the corporate planner, to the association planner, to the bride, to the sports team manager, to the business traveller – all are looking for different features from your organization.  
Looking for employment opportunities inside your current organization – you may be very happy with your current organization, but looking to climb the corporate ladder, or try a different role within the same company.  There are ways you can position your profile to showcase your strengths and your readiness to take on new roles and responsibilities, all while serving your current clients.
Looking for employment inside the industry while currently working – you may be open to new opportunities, but you're still employed by an organization.  There are ways to position your profile that showcase your strengths and attract recruiters, while still serving your organization and your current clients
Looking for employment in a different industry while currently working – there are a number of industries that require our hospitality skillsets; let's highlight those in your profile and attract different types of job recruiters to your LinkedIn presence.
Being a thought leader while working for an organization – As we develop our personal brands, you may be creating an inbound marketing strategy that attracts both clients and other industry leaders.  There are ways that you can adapt your profile to showcase your thought leadership, and still serve your clients in your current job role.
When crafting your LinkedIn profile, there are some considerations to keep in mind as you speak to 2 (or more) different audiences.
Ways you can position your profile while wearing 2 different hats:
Your banner – ensure your banner speaks to either ONE audience at a time, or has content that resonates with ALL audiences OR creates a clear delineation between the two…..  By trying to combine elements on your banner that speak to all audiences, you can create confusion with this feature.  As one of the first features that people look at when they land on your profile, keep them reading on by being clear.
Your headline – here is where you can address multiple audiences quickly and effectively.  Your text, while limited, can highlight what you do and how you help, to a number of different individuals.  You can then expand on your service offerings in your summary….
Your About / Summary – this section is really where you can break it down for each of your audiences.   Call out your audiences by naming them, and being clear on how you can help them.  Your audience will know they are in the right place when they see their title features in your Summary section.  Use carriage-returns, emojis or some other visual break to help each audience find their place quickly in the text.
Your Featured Section – You can create a Feature for each of your audiences that give you both visual and textual real estate to give your target audience more of what they need.
Your Work Experience– similar to your Summary, this is a great place to break up your roles and responsibilities by the target market you are service.  By including your ideal client's job title, your ideal client will be able to find themselves quickly, and know they are in the right place.
What if your "other hat" is to seek employment while currently working? 
I get it, this can be tough when you want to look your best for recruiters but not raise any red flags for your current employer.  Consider these tactics when polishing up your LinkedIn profile:
Focus on skills and strengths that are transferable to other industries or jobs.  Highlight these skills and how you use them in both your Summary and your Job Description
Focus on your client and serving your organization – any potential job recruiter is looking for someone that will be a good fit to help serve their organization.  By showcasing your ability to attract clients through your LinkedIn presence, they'll see someone that can do the same for their organization.
Connect with those that can influence your future employment – consider connecting and following the content created by those that can influence future opportunities:

Company pages – follow the LinkedIN Company pages of those organizations that interest you for employment.  Don't forget to "like" and "comment" on their content to make yourself more visible.
Recruiters at the organization – find and follow the content of those responsible in the hiring and interview process

Potential supervisors at the organization – find and follow the content of those in charge of hiring decisions in the departments that fit your skills

Potential colleagues at the organization – find and follow the content of those that would be team members at the organization
Looking for ways to level up your LinkedIn game without spending hours and hours on the platform?   Join me for my upcoming webinar "3 Ways to Level Up Your LinkedIn Game…. FAST!" and discover the low-hanging fruit on LinkedIn that will help you take your business and brand to the next level!  Go to leannecalderwood.com/masterclass to find the class time that best fits your schedule!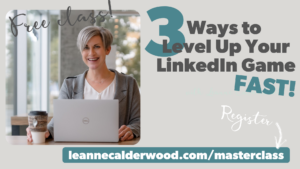 RELATED  – How to Send LinkedIn Invitations to Grow Your Personal Brand
RELATED – Using LinkedIn's Featured Section to Showcase your Personal Brand