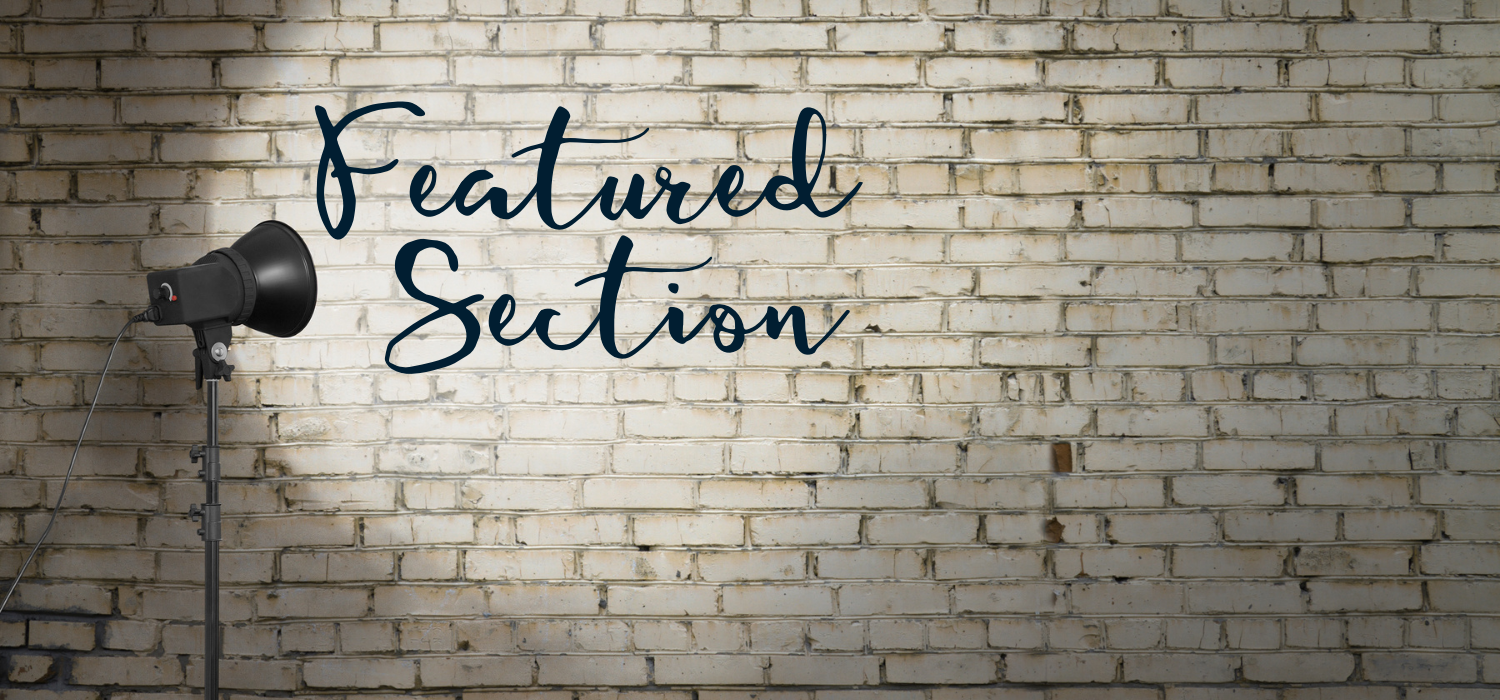 Using LinkedIn's Featured Section to Showcase Your Personal Brand
One of my favourite sections on my LinkedIn profile is my Featured Section.  This feature rolled out in February 2020, and it's created an incredible opportunity for us to showcase items for those visiting our profiles.
What is LinkedIn's Featured Section?
As explained by LinkedIn, the Featured Section is the area on your LinkedIn profile where you can showcase work samples that you're most proud of. For example, you can feature posts that you've authored or re-shared, articles you've published on LinkedIn, and even external media like images, documents and links.
The Featured Section is a great place to add visual elements to your profile.  Whether you're using your profile to grow your personal brand, find employment or showcase your product or service, the Featured Section is like a "highlight" reel for you.
If you are in LinkedIn's Creator Mode, your Featured Section will sit right below your Highlights (which is just under your top section) and just above your Activity, with your About and Experience sections falling under that.  If you are NOT in Creator Mode, the Featured Section sits just below your About section (which is just under your Highlights)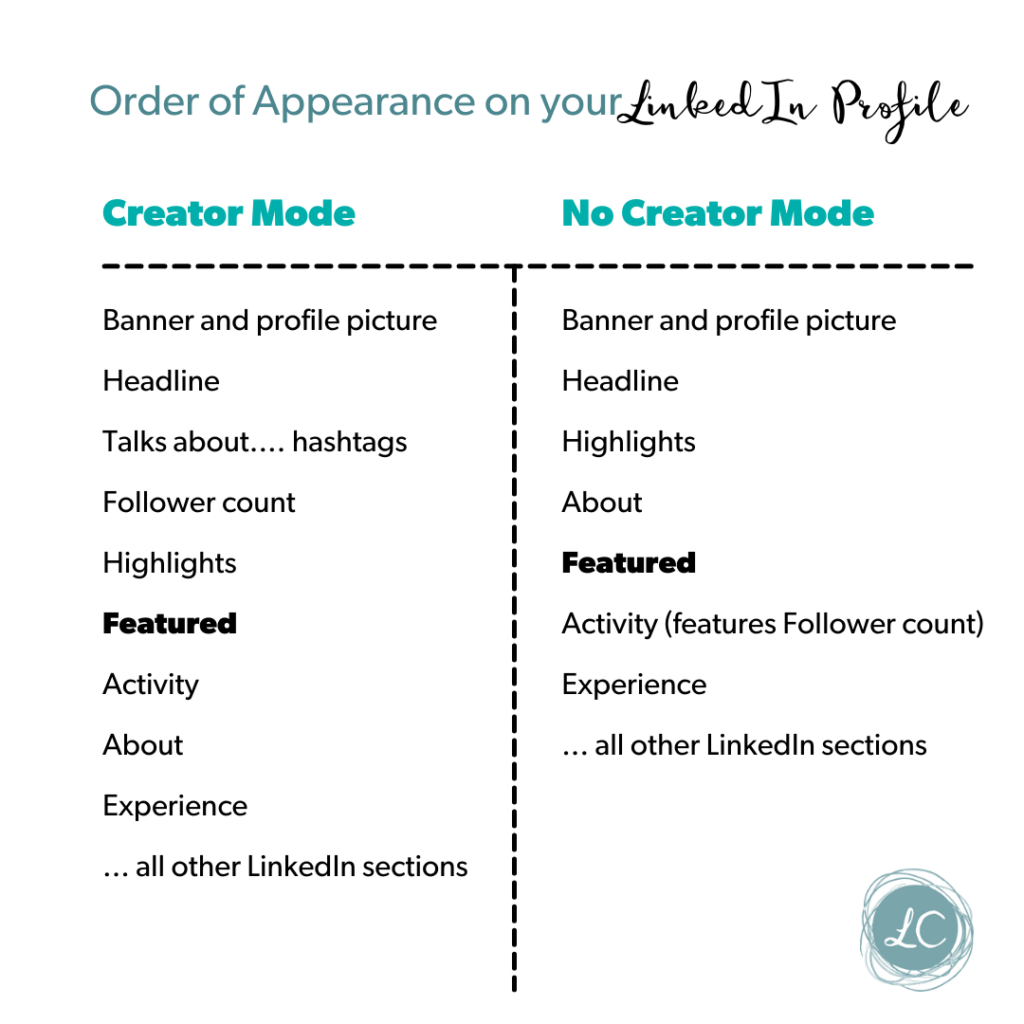 What can you add to LinkedIn's Featured Section to showcase your personal brand?
Link to your long-form content base – this could be your website, blog, podcast platform or YouTube channel.  If you are posting valuable content consistently on a long-form platform base, this is a great place to direct your audience to engage with you outside of the LinkedIn platform.  Remember, the goal of LinkedIn is to actually nurture relationships to the point where you connect OFF of the platform.  Give your audience some options by including your website in your Featured section.
💡Tip! Sometimes LinkedIn won't display your link in a visually appealing way.  If it just doesn't look right, consider creating an image with your website address.  The image will help with engagement and hopefully attract them to move through to the website.
Link to your most popular LinkedIn posts that show your thought leadership – Have some of your LinkedIn posts performed better than others?  You can copy the link to that post and add it to your Featured Section!
💡 Tip!  LinkedIn will pull up your posts in chronological order for you to choose from, so update your Featured Section regularly when your post receives good engagement, so as not to lose track of the post in your feed of content
Link to a PDF created that outlines your services and offerings – create a visually appealing PDF that shows how you serve your community, and include that in your Featured Section.
💡Tip!  Less is more.  While the document is a PDF, it serves more as a collection of images.  Keep your PDF pages clean and clutter-free to create a easy-to-read opportunity for your audience.
Link to your call-to-action – Be it to book an appointment with you or to a resource that they can download, including the "next logical step" in their journey with you is a great feature on your Featured Section.  Some examples include how to access your free resource, a link to join a Group or Page, your email address or phone number, or to book a meeting with you
💡Tip! Create an appealing image to accompany your CTA in the Featured section
Link to articles and publications – whether they are articles that you wrote for other publications, or articles in which you are featured, link to these brand-builder assets in your Featured Section!
💡 Tip! Turn one of your most popular blog posts into a LinkedIn article, and then attached that to your LinkedIn Featured Section
Link to your company's LinkedIn page – If your company has an active LinkedIn presence, add a call-to-join your company page in your Featured Section.   Ensure your company page is active, and has some content that would appeal to your target audience.
💡 Tip! Help out your marketing department and give them some content to post on the Company page that would appeal to your ideal client.
💡 Bonus Tip!  Welcome new page followers with a short direct message welcoming them to the page, and pointing them towards some of the most popular content pieces.
Don't forget!
Check your Featured section once a month (or more!) to ensure you're profiling the right offers, and that your links aren't broken.
Mix up the order of your Featured section to showcase the same offers, but presented in a different way visually
Need a booster around your LinkedIn Content?  Join me for my upcoming masterclass, 3 LinkedIn Strategy Secrets That Will Elevate Your Personal Brand.  Classes start soon!