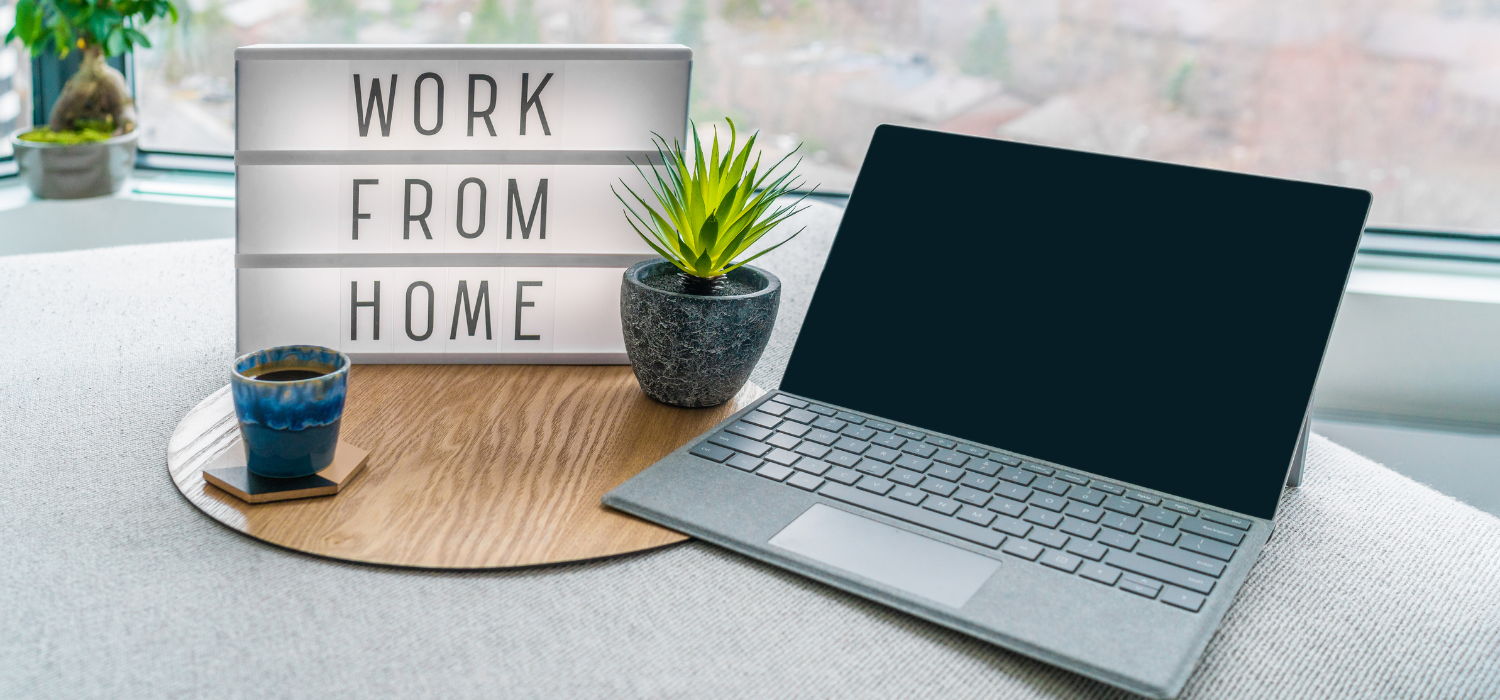 Developing Your Brand While Working From Home
So you've been working from home during the past couple of years, or maybe you've decided to work from home more often moving forward.  Working from home can offer you an immense amount of flexibility and freedom in how you structure your work; however it can also remove you from the noisy bustling of the corporate office. Working away from the office can sometimes put your personal brand out of sight, and perhaps out of mind with your leadership team.  When it comes time to developing your brand while working from home, there are a few ideas that you can use to help keep your brand top of mind with your colleagues and supervisors.  
Tips on developing your personal brand while working from home
Opt to work at the office once or twice a week – being in the office even just one day a week gives you facetime with leadership and colleagues.  Out-of-sight becomes less and you're seen as a true team member and collaborator.  Make the most of your in-office days by scheduling meetings and get-togethers with colleagues.  These meetings are great opportunities to discuss new ideas and projects that can help position you as a valuable team member and leader as well.
💡Content tip – Don't forget to stop by the marketing department to see what you can do to help with client-facing content for your organization's social media channels 
Attend office functions – If the office is celebrating a birthday or going out to lunch, make sure you're invited and make a point of attending.  Networking internally is just as important as networking externally when promoting your personal brand.  If you're not able to attend, send your colleague a card or note to let them know you're thinking of them.

Arrange for video meetings with colleagues and leaders.  Instead of just calling into the office for weekly check-ins, encourage team members to have video meetings using Skype, Zoom, MS Teams, etc.  These opportunities also provide video practice, so that when you decide to incorporate more video into your brand-building efforts, you have a headstart on some obstacles and decisions.
💡Content tip – if you can't arrange for in-person one-on-one interviews for your social media content, consider scheduling a Zoom meeting that can be streamed Live to your social media channels.

Find a mentor in one of your leaders

– Get quality face-time with your leadership by recruiting them for some mentoring time.  Mentoring is different than supervisory check-ins;  make sure you focus solely on growth and development during your mentoring meetings, and leave the day-to-day reports for another meeting.  You can learn more about the

importance of mentorship here.




💡Networking tip – Does your mentor work in a different location?  Arrange virtual meetings with your mentor to stay top-of-mind, and to have the next best thing to in-person connection.  Bonus tip – follow up after your meeting by sending a card or a note outlining your top 3 take-aways from the meeting.

Network with leaders – Ensure you have quality face time with your own leadership when you're in the office.  Also look into external networking events, whether in-person or online, that include some industry leaders.  Diversify the industries from which you find your leaders; you may learn leadership lessons that can be easily transferred to your industry.
💡Hospitality tip – our industry has a number of professional associations with local and virtual meetings and conferences.  Consider membership into PCMA, MPI, ILEA, CSAE and Restaurants Canada.  All of these associations also have local chapters.

Volunteer in the industry – beef up your resume and relationships by volunteering for an industry association or group. Volunteering can allow you to play to your strengths, or learn a new skill, both of which can become part of your brand.  Volunteering also exposes you to different working styles, leadership styles and project management styles.
💡Hospitality tip – Consider volunteering at one of the professional associations I listed above, or try your hand at using your skills for causes outside of the industry.  This can lead to brand growth outside of your typical spheres and introduce you to different types of leaders and collaborators.  
Leverage social media – Gain visibility to your leadership and marketing teams by liking, commenting, and sharing social media content created or produced by your organization.  Make a point of regularly checking in on the content of your leaders, and make a point of adding thought leadership to their content.  Consider tagging your leaders on relevant content that you create, on behalf of your organization and client-facing pieces.
💡Content tip – Don't forget your company's LinkedIn Company Page – interact with the content and add some thought leadership as it pertains to your target audience.

Keep your LinkedIn profile updated

– by

updating your LinkedIn profile

with work experience, volunteer experience, LinkedIn groups and other business-related practices, it shows you're very active in the industry and contributing your thought leadership to help nurture and grow others.

Create or volunteer for projects – is your leadership looking for someone to take on a special project, or have you identified a special project on your own?  Go for it and create a presentation to give to your leadership!
💡Networking tip – Pull a team of collaborators together to work on the project.  Learn from one another and practice your leadership and facilitator skills.

Seeing people throughout the week will give you the boost of energy you need to power through those days at home that seem isolated.  Remember, you're NEVER alone and there are likely tons of people in your industry experiencing the same feelings of isolation as more and more people move their offices home.  Become a network of telecommuters and support each other continually by staying connected, and you'll be more productive and inspired in your work!
Still not sure you're cut out to work from home?  This work-from-home self-evaluation tool may provide some insights about working from home, and give you some things to consider as you decide what working style best suits you.
RELATED – LinkedIn Content Formats
RELATED – LinkedIn Company Page Best Practices
RELATED – The Importance of Mentorship
RELATED – Professional Development for Meeting Planners