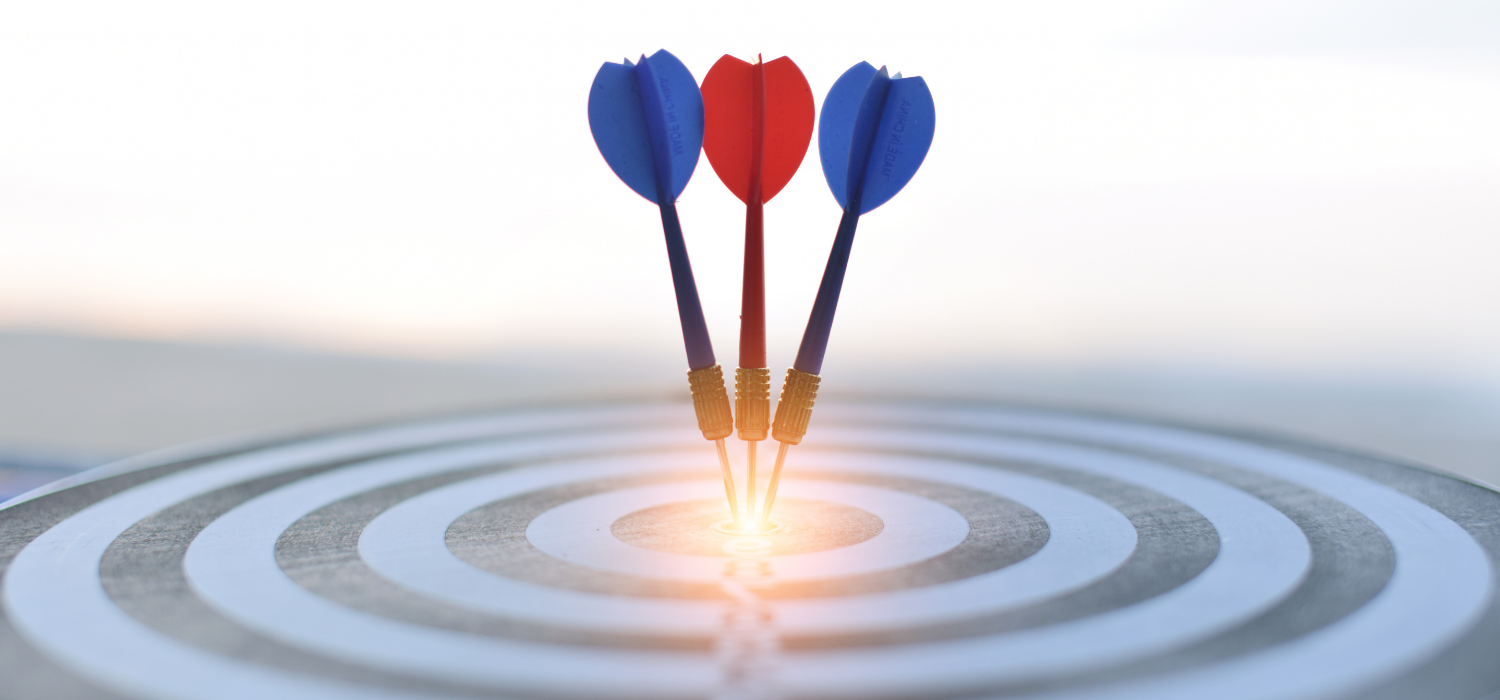 Personal Branding Goals – Setting Three Goals Instead of One
I'm a slave to my goals.
It's not a healthy relationship and I'm working hard to become more "flexible" when it comes to my personal branding goals.  But I'm wired in a way that if I don't set goals, in everything I do, I have no road map for success.  It's imperative to my business, my brand or any performance endeavour I take on.  I used to become very frustrated with my goals; if I actually met my goal, then I thought I didn't set it high enough.  And of course, the exact opposite, if I didn't meet my goal, I would fall into utter depression.  I needed to find a way to become more balanced with my goals so I could meet goals that were still challenging enough, but still achievable.
Enter my NUMBER ONE RULE for Personal Brand Goal Setting – Don't Set One Goal, Set Three.
When setting your goals for the year or for the quarter, do not set one stand-alone objective measurable goal, but rather set a Meet Goal, an Exceed Goal and a Far Exceed Goal.
By setting THREE goals versus one goal, you "scale" your performance and reduce the potential of frustration, or the feeling that you didn't strive hard enough.  Here's how it works:
Goal setting for Personal Branding Goals:
Before we define our three goals, it's important to remember the universal truths about successful goal setting.  Goals must be SMART.  The SMART goal framework has been around since the early 80s and it really transformed the way that we view our once abstract goals.    It puts some structure around our goals so that they can be accomplished.   SMART goals are those that are specific in nature, measurable, achievable, relevant and time-bound.  As you think about your personal branding goals, see if you have the ability to create them into SMART goals.
Here are a few examples of personal branding goals turned into a SMART framework goal
Goal = to attract a social media following.  A SMART goal that could accompany this vision could be as follows:
To grow my LinkedIn network by 500 followers by December 31st, by extending LinkedIn invitation to 10 industry clients and prospects per week so that I can help more clients and prospects with my LinkedIn content and my product.
This goal is specific in nature, measurable, achievable, relevant to our work and has a time-bound commitment to it.  Now, every time you extend a LinkedIn invitation to a potential client, it ties back to your social media following goal.
Now that we have some measurement around the LinkedIn goal (500 new followers), we can create three goals that will help us feel a sense of accomplishment as well as push us to exceed our own expectations.
Setting Meet Goals – these goals stretch you beyond what you did last year, typically by 3-15% depending on last year's goals and your opportunity to excel further.  Setting this goal should make you feel like "yes, I can do this.  It's more than last year and will require me to stretch in order to meet it."
Rewards for this goal can simply be the acknowledgement that you a better version of yourself.  You may decide to assign a physical reward to this goal, or the simple act of knowing you hit it may be enough.
Using the LinkedIn following example, perhaps you attracted 450 new followers last year, making 500 new followers this year very achievable. (10% improvement)
Setting Exceed Goals – these goals stretch you beyond your meet goals, to a place where you know you will have to sacrifice some comforts in order to reach it.  They should be 15-30% more than last year's actuals.  I recommend assigning a physical reward to this goal – you will need to work hard to hit this goal, and you will have earned your reward.
Using the LinkedIn following example, trying to attract 600 new followers (which is 25% above last year) would be a great Exceed goal.
Far Exceed – These goals will make you say "there's no way I'm going to hit this goal, but wouldn't it be cool if I did?".  You're really going to have to stretch beyond your comfort zone to hit this goal, which should be 30%+ over your previous year's goal.  This one is going to make you SUPER uncomfortable, and you may have to sacrifice something to get there.  The reward for this should be significant and worth striving for!
Using our LinkedIn example, striving to attract 700 new followers this year (which is a 40% bump over last year's new followers) would be a great Far Exceed goal.
Setting Your Goals, and Celebrating Your Achievements
By setting three goals, you can no longer question the validity of the goal – you either meet it, or exceed it – but no longer wonder if the goal was aggressive enough, or too aggressive.
The best thing you can do for yourself once you meet, exceed or far exceed your goals is to CELEBRATE!!  Far too often we dismiss our success and quickly move on to the next project.  We all need to pause, reflect on our success and celebrate it!  This is healthy goal-setting behaviour and encourages us to set more goals and strive for more success!
Quick considerations about achieving your goals and celebrating:
Make each celebration scalable with the goal – small celebration with "meet", and increasing larger celebrations as you meet your "exceed" and "far exceed" goals
If you continually "far exceed" your goals in a certain area, or continually fall short of your "meet" goals, don't wait for the end of the year to re-adjust.  Take a look at your progress each quarter and make adjustments accordingly – both in order to set you up for success, and to challenge and push the status quo
RELATED – Personal Branding, Why You Didn't Meet Your Goals
RELATED- The Importance of Personal Branding
RELATED – Are you Ready to Build a Personal Brand?