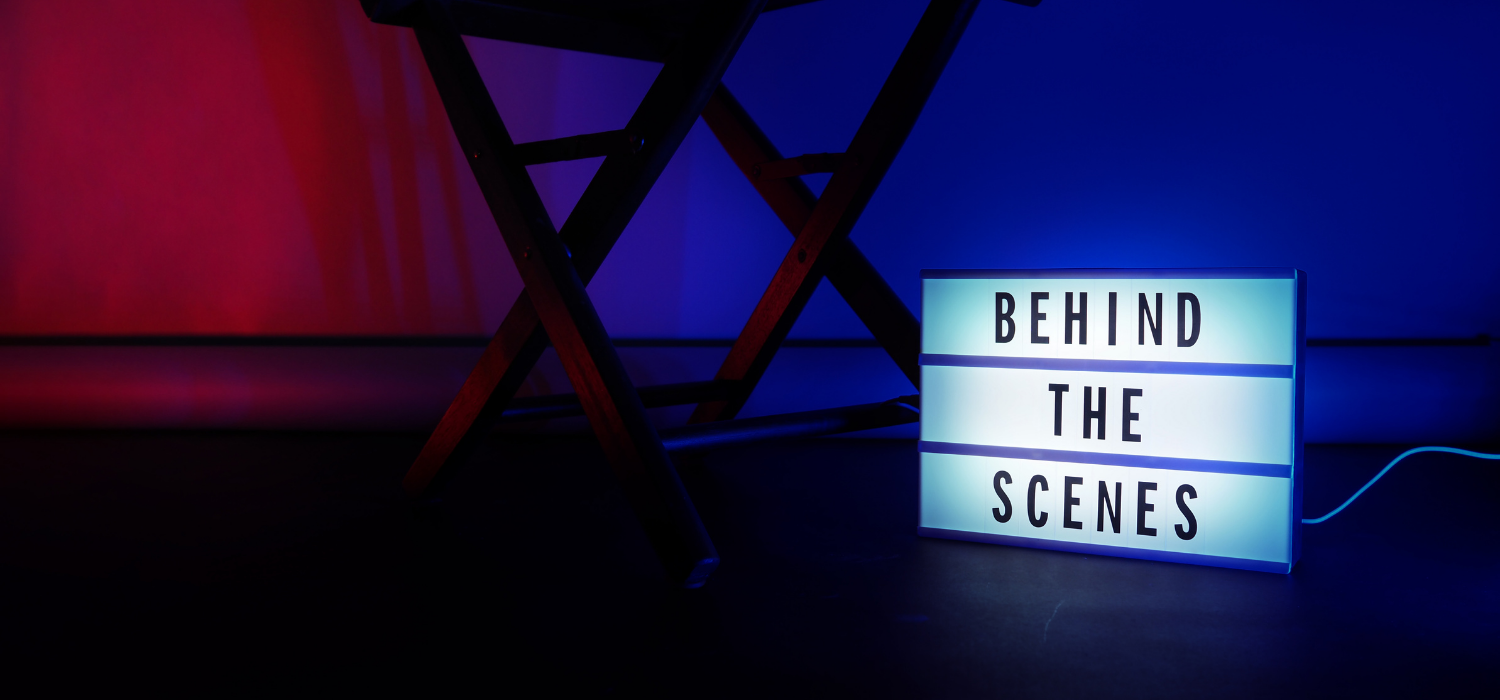 Behind the Scenes Ideas for Meetings, Events and Hospitality
The meetings and events industry is a great place to start to build a personal brand, but once your brand is created, then what? When you're in events, you're in the "experience" business, so it's an ideal place for creative individuals who want to carve out a personal brand through content creation. And there is no better content for our visual industry, than a "behind-the-scenes" look.
Meetings and events have some very unique opportunities for those that want to create engaging and enticing content. It's through this content that we start to build the "know, like, and trust" factor with our ideal clients very quickly.

So what exactly is "behind-the-scenes"? I consider behind-the-scenes as glimpses into the operations BEHIND the scenes helping to make a meeting or event more successful. These are not the client-facing assets, but rather what happens behind the client-facing assets to help make those assets look so amazing! It's the secret and hidden workings of an experience.
Nowadays, this type of authentic look behind the scenes is what people crave. You can look to the popularity of "how-to" shows on TV and YouTube to see how giving people these secret glimpses feeds into their experience. "How Do They Do It?" on the Discovery Channel is a great example of a behind-the-scenes show that solves puzzles, answers questions, and entertains its viewers.
Why is "behind the scenes" so powerful?
You give them a glimpse into what it would be like to work with you – Whether your behind-the-scenes includes video, pictures, or text, you can create a visual picture of what it could be like to work with you.
Creates clarity – By going behind-the-scenes and giving real-life examples of how a meeting is created, you provide clarity in the planning/execution process and reduce confusion and questions.
Shows your commitment to the latest trends – Are you doing something trendy that is sure to set yourself apart from the competition? Don't keep it a secret – share it with your clients via a video, picture, or carousel post.
People want authenticity – By being "real" about what you created can create a connection with you as their partner or supplier. It takes away the mystical wizardry of your operation and makes you more relatable and human.
Creates edutainment – Behind the scenes can not only create clarity around a process or set-up, but can also become an engaging teaching moment. The BTS from your kitchen and bar are great examples of where you can create a great connection with your clients.
When it comes to behind-the-scenes in the events industry, you are not only "creating and influencing public perception" of you as an individual, but there are a plethora of opportunities available to influence your customers' perception around your product or offering as well. Your BTS content can create trust in you as their go-to person for your service, but also create transparency in your operations.
Here are some behind the scenes ideas that YOU can use at your organization:
Take your clients on a tour through the facility's back-of-house kitchen – Employ one of your chefs to help showcase some of their secrets.

How do they mass-produce a dinner feature?
How do they create those chocolate bombs on the dessert plate?
Show the rooftop herb garden or beehives behind the property.

Take your clients behind the bar – Interview your mixologist or sommelier and get a behind the scenes look at:

How they create certain aromas and mixology combinations
How the sommelier chooses the wines or keeps wine inventory

Do you have an employee break area or employee housing complex that you're particularly proud of? This content could work well for both your client's and for a recruitment campaign for seasonal employment.

Showcase accommodations and amenities, as well as employee common areas.
Showcase the on-site back of the house – where they'll be working and spending most of their day!

Take your customers through your hotel spa or other amenities onsite – Interview your masseuse or nail technician on their set-up and sanitization of the stations.
Take your clients behind the scenes at events and meetings of similar size to their own – This is a powerful strategy for helping a client visualize themselves in your space. Speak to:

The various table setups
Sightlines from various points in the room
The journey from the guest elevator to the meeting space
The journey from the general session to the breakout spaces

Walk your clients through an AV setup, and demystify the operations of event tech.

Point out the rigging points in the room.
Illustrate different screen orientations and how that impacts sightlines.
Show how the use of lighting can really make or break your presentation.
Show the speaker's vantage point and how they will navigate the stage and room. This is also a great asset for meeting planners to give to speakers as part of their prep package!
The format of your behind the scenes can vary, but here are a few that work best:

Raw video – As your clients crave authenticity, real raw video footage with you narrating is a great way to create a connection with your clients.
Produced video – With more time and dollars, produced behind the scenes video creates an asset that you can use over and over again, in a variety of settings.
Live video – Schedule a personalized "behind the scenes" tour with your client; create a show plan before taking them on tour, and limit the number of tour items so as to not overwhelm your client with too many behind the scenes at once.
Images – Pictures of BTS, including some of the staff members, are a great way to give people a glimpse into the operation, and into the personalities that make up your team.
If you're looking to create content for your personal brand and your organization's brand, consider some behind-the-scenes shots! Best of luck!
RELATED – LinkedIn Content Formats for the Hospitality Industry
RELATED – Content Creation Tips for Hospitality
RELATED – Using Video to Create Engagement