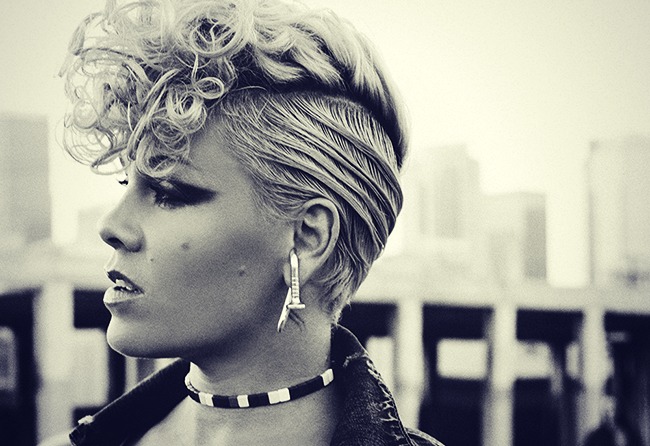 Authenticity in Sales – and other lessons from P!nk
Friends, I've had the immense privilege in life of seeing Alecia Moore (aka P!nk) in concert twice – the most recent being for her Beautiful Trauma tour.  You may think P!nk and authenticity in sales don't go hand in hand, but I found myself thinking about this during her concert.
You see, P!nk started her professional career during the "time of conformity" back in the late 90s, and many of her song lyrics over the years have reflected the battle of conformity versus authenticity in the music industry.
As a non-conformist, her authenticity has always shone through her lyrics, as early as 2001 in her song "Don't Let Me Get Me"
LA told me, "You'll be a pop star,
All you have to change is everything you are."
Tired of being compared to damn Britney Spears
She's so pretty, that just ain't me
Don't Let Me Get Me, Alecia Moore 2001
P!nk does what most of us only dream of doing, and that's being truly, truly authentic to who we are, and the consequences come what may.  Her non-conformist ways was met with a ton of resistance in music-land, but where has it left those conformists now?  P!nk is one of the most highly successful recording artists in the world, and was 2018 People's Most Beautiful Woman.
P!nk sells out arenas around the world, aside from incredibly ridiculous talent, because of her authenticity.  She gives her fans licence to be whoever they want to be.  Other artists do this as well (Lady Gaga does this very well as well, here is a fascinating piece on Lady Gaga's marketing strategies).
While P!nk is physically stunning, her Most Beautiful title did not come from physical beauty alone.  Her true beauty comes from authenticity in character.  Through and through.  No compromise.
So, so what?
I'm still a rock star
I got my rock moves
And I don't need you
So What, Alecia Moore 2008
At the 2017 VMA Awards, P!nk recounted a story about a conversation she had with her then six-year old daughter about conformity.  You can read the full transcript here (and please have some tissues handy, I almost double-dog dare you to read it without getting teary-eyed).
You're so mean, when you talk, about yourself you were wrong
Change the voices in your head, make them like you instead
So complicated, look how big, you'll make it
Filled with so much hatred, such a tired game
It's enough! I've done all I can think of
Chased down all my demons, I've seen you do the same
Oh, pretty, pretty please, don't you ever, ever feel
Like you're less than, less than perfect
Pretty, pretty please, if you ever, ever feel like you're nothing
You are perfect to me
F*&%in' Perfect, Alecia Moore, 2010
So what does P!nk's example have to do with SALES in MEETINGS?
My friend, it means everything.  Everything.
Authenticity is king when working with clients and prospects for business to your hotel/destination/AV company.  Gone are the days of stereotypical greasy salespeople, pushing product and service out to the masses.  Long-term successful sales relationships are built on trust and authenticity.  And you, my dear dear friend, are the front-line of that process.
How does authenticity in sales shine through in the meetings environment?
Define Your Ideal Client – by taking an honest look at the type of person you want to work with, you will book more business by focusing on fits that make sense to you.  You can work through how to define your ideal client with this free worksheet.
Honest assessment of your property  – by being realistic with the strengths (and potential short-comings) of your product, you can focus your marketing and prospecting to client groups that make the most sense to you.  There's no sense in trying to attract incentive travel business when you are an airport or industrial park hotel, but boy if you focuses your prospecting time on corporate clients, you will clean house.
Your sales script is easier – similar to the adage "telling the truth is easier to remember", being authentic is easier to communicate to your potential clients.
Authenticity in sales is what our clients prefer! Clients prefer honesty and fun over pushy sales, and when you're being more of yourself, this is much easier to do!
Relationships over client/supplier divide – when being true to yourself, communication with clients becomes more two-way as trust is established.  People want to buy from people they like and trust, and they will collaborate with people they trust.
You become a strategic part of the sales process!  Coupled with all the reasons stated above, you've now elevated your status as an integral part of the strategic planning process, not merely a small part of the planning cycle.  Embrace your role as a collaborator with planner partners and do not minimize the value you are bringing to the table.
You will love your career more.  Think back to the best times of your career or your most enjoyable moments in a work week.  Chances are, you were exercising your strengths and being true to yourself.  Should we not strive to do more of that each and every day?
Looking ahead to the next few months, can we all commit to be a bit more like P!nk, and trust that our authenticity will attract people/clients/career choices our way?  I'm convinced we'll all be happier doing so.
What other examples have you seen where authenticity in sales resulted in healthier long-term client relationships?
Disclaimer – here is where I divulge my authenticity.  I'm not a music fanatic; while P!nk is one of my favourite artists, I do not study music or dwell on who's who in the music zoo.  Rather I'm a fan of authentic people and relationships.  I'm black and white (no P!nk pun intended) about this.  My favourite people in the world are those who are incredibly real, and faulted, and raw.  I strive to be more real and true every day, and I certainly am faulted and raw.  If you're on a similar path, then we should hang out 🙂  Hugs! 
RELATED – Find Your Strengths Using Strengthsfinder 2.0
RELATED – Define Your Ideal Client