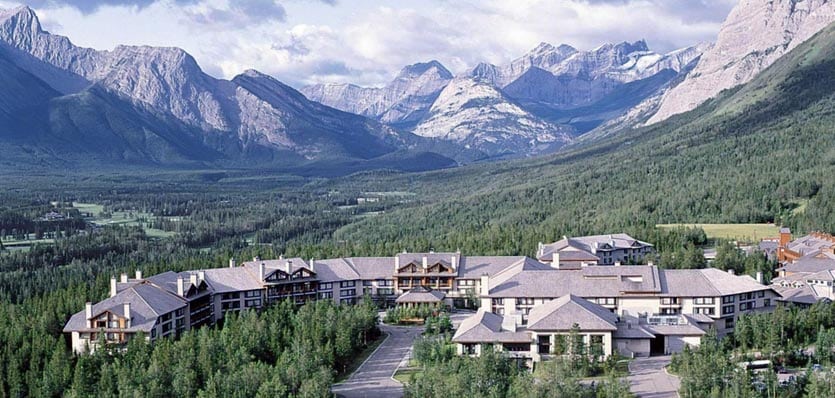 Hotel Focus – Pomeroy Kananaskis Mountain Lodge
I had the great privilege to siting the newly renovated and branded Pomeroy Kananaskis Mountain Lodge, Autograph Collection by Marriott alongside some other HelmsBriscoe associates in May 2018.  This property has seen some great changes and I'm really excited about what it has to offer conference and event planners!
You may be familiar with this property, this is the former Delta Lodge at Kananaskis location.  With the massive renovation (35+ million!), they also rebranded to an Autograph Collection by Marriott hotel, under Pomeroy management.

Nestled in the beautiful foothills of Kananaskis in Alberta, Canada, the Pomeroy Kananaskis Mountain Lodge offers incredible mountain views and views of the valley river bed winding around the Kananaskis Country Golf Course.
There are  408 rooms on the resort, with 247 in the main Pomeroy Kananaskis Mountain Lodge, 70 in Crosswaters Resort and 91 rooms in Mount Kidd Manor.    For meeting planners, the hotel boasts over 22,000 sq ft of flexible meeting space, including a 5700 square foot ballroom.
Leanne's notables:
Lobby lounge – a new, relaxing, fantastic place for delegates and guests to unwind.  Great wine list and amazing service
Kananaskis Nordic Spa – This 15+ million, 50,000 square foot spa includes a number of steam huts, a sauna room, treatment rooms as well as a hot,cold and warm plunge pool.  All outdoors, with incredible views of the mountains!
Guest room retreats– the newly renovated guest rooms are very tastefully appointed and are truly "retreat" spaces from the hustle and bustle of city life.
The grounds – the sweeping views of the mountains, and then the hikes around the area that show off the beautiful river and golf course views are just what your delegates need after a busy conference day.
You can find more information about the Pomeroy Kananaskis Mountain Lodge via their social media handles
To learn more about the beautiful Pomeroy Kananaskis Mountain Lodge reach out to me and allow me to make some introductions to their fantastic team!