Getting the Most out of IncentiveWorks
Whether you are a meeting planner or a meeting partner, you know how mentally and physically exhausting  attending trade shows like IncentiveWorks can be.  There are receptions to attend, clients to see, tradeshow booths to visit, breakout sessions to attend, lunches followed by coffee breaks, following by more networking receptions.
Its a tough job, but someone has to do it.
If you planning on attending IncentiveWorks (August 13-15, 2018), there are things you can do to maximize your ROI and your time spent at the show.  Many of these tips can be used for ANY tradeshow and conference you visit, but there are some very specific IncentiveWorks tidbits of advice here:
Getting the Most out of Monday at IncentiveWorks
Monday is usually the travel day to Toronto for IW unless you are taking part in the full-day Site Canada Golf Tournament or the Hosted Buyers program.

Monday evening is the optional MPI Foundation Canada Rendezvous (extra ticket required, link here).  Tempted to go out after the party ends at 10pm?  Don't do it…. take a look at Tuesday's schedule….
Getting the Most out of Tuesday at IncentiveWorks
Tuesday is the start of the education sessions, followed by a keynote address, and then the doors open to the tradeshow from noon to 5pm.  Then, its off to networking reception after networking reception until midnight and beyond.  WHEW, its a BIG DAY!
Get lots of rest Monday night, watch your eating and diet on Tuesday, and try to limit the number of networking receptions you're trying to cram into your Tuesday night.  Quality over quantity here – aim to spend quality time with your meeting partners and cultivate relationships.  Its not speed dating, its purposeful networking and relationship building.
Getting the Most out of Wednesday
You may think Wednesday is the easy day, with an early departure after the tradeshow, BUT THERE ARE SOME CHANGES THIS YEAR!  The Hall of Fame Awards are starting at 3pm in the Learning Lounge, and the IW Closing Party will take place right on the tradeshow floor starting at 4:00pm.  STICK AROUND!!  You don't want to miss it!
Educational sessions at IncentiveWorks
Tuesday and Wednesday's Education Sessions are found here.  There is no need to pre-register for sessions, but I suggest picking your sessions beforehand.  Note: all sessions have different lengths, times and locations, watch your mobile app carefully for room assignments:
Tuesday and Wednesday morning breakouts – some are 1 hour in length, some are 2 hours – starting at 8:30am, MTCC
Tuesday and Wednesday Keynotes – some GREAT topics for keynotes this year! I'm really looking forward to hearing what our esteemed speakers Dr. JP Pawliw-Fry and Lynn Crawford have to share!
Learning Lounge – tons of topics throughout the afternoons on the tradeshow floor.   Its tempting to stay in the Learning Lounge all day!
Discovery Workshop – learn how to make truffles!  This will not help my diet, but I may stop by just to take a peek :)
Tradeshow Tips
Appointment Scheduler- you can take advantage of the appointment scheduler and pre-book your appointments with meeting partners; this will ensure you see everyone you want to see.  You can find info about the appointment scheduler here.
Plan your route –  planning your route will be essential to being the most productive on the floor. If the show is too much for you to cover in the 2 days allotted, consider implementing a "focus" for this year and using a different "focus" next year. For example, you may want to focus on Eastern Canada this year, and Western Canada next year.
Take notes – Writing something down leads to better retention, so even if you don't have a plan to use the notes again, take some notes to better retain what you are learning.   If you prefer a paper notebook, ensure you have a proper filing system back at the office, or scan the notes into online storage. If you'd prefer to go paperless, use a robust note-taking and picture-taking app like Evernote.
Getting the Most out of the SHOW!
Download the app!  Don't forget to download the IW app, found here.  Please note, this app is not in the app store, you must go to this link on your phone and download.
Sensible shoes – If your feet are anything like mine, 6 hours on a tradeshow floor is all you need to create hamburger feet that hurt for days. Please wear sensible shoes (but still with a bit of style 😊 ) and pack some blister bandaids. The Walmart brand blister bandaids are best (most economical and work great!)
Water bottle – pack a recyclable water bottle. The water stations are never around when you need them, and you can also find collapsible water bottles that take us less room in your luggage. Stay hydrated! While you're at it, throw a granola bar in your bag in case you don't have time to stop for a snack.
Good nights sleep – Tradeshows are not mini college spring break vacays where you can bust loose and stay out all night. Pace yourself, drink alcohol in moderation and take a mild melatonin if you suffer from jet-lag or are not able to sleep well in hotels. Being the best version of you will give you the most return on your investment!
Log your CE credits– the sessions you attend on Tuesday and Wednesday count towards your continuing education!  Keep track of your sessions and keep your proof of attendance when you upload the CE into your Events Industry Council record.  More info on CE credits for IW sessions can be found here.
By employing these simple tips, you're well on your way to a successful IncentiveWorks and all the ROI that you can take back to your organization!
Hey #meetingpartners, I created a FREE downloadable prospect notes worksheet – this isn't just an ordinary notebook for taking client notes; it helps you ask some poignant questions of the prospect, and of yourself, to help build the relationship and create a bang-on follow up strategy.  Check it out here.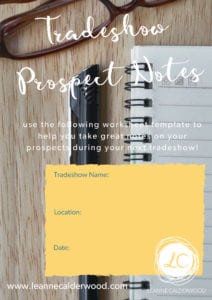 RELATED – Getting the Most Out Of A Tradeshow
RELATED – Packing Tips for Travelers in the Meetings Industry
RELATED – Productivity Tips While Travelling